About Us
We serve Zabiha Halal Meat Vegan Welcome! We have more VEGAN choices than ever.
Finding new favorites on classic Indian menu. Rated as "One of the Best" by Chicago Tribune, August 20, 2009.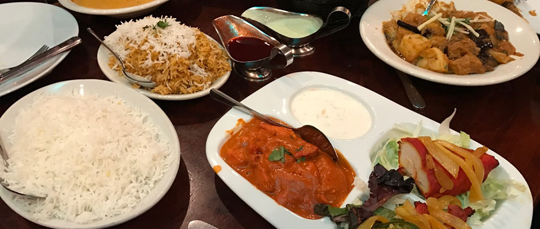 Our Reviews
Great service and even better food! Friend who was with me was delighted as she had been looking for a local Indian restaurant that tasted fresh and good and she announced she'd found it here. She's been back multiple times since!
szingery
I've been coming here since 2013 and love this place. It's quiet, cozy and just an overall great spot for Indian fusion cuisine! (My favs are: Veggie combo, palak paneer, mushroom vindaloo, chana masala, mushroom and onion naan, and mango lassi.)
Samantha Molina
Wonderful, small, BYOB place. Really friendly staff complements some of the best Indian food in Chicago--we brought friends who have lived in India and both were more than satisfied. Also a great takeout option, but worth the trip with the BYOB and often comped dessert or apps :)
Alex Jakubowski